Holy Toledo. My childhood heroine, Cyndi Lauper, is back! She takes center stage alongside Lady Gaga in MAC Cosmetic's Viva Glam line which donates 100% of the proceeds to the MAC Aids Fund. MAC has a long history of producing products to help people affected by HIV and AIDS.
Nothing beats a good red lipstick these days. Cyndi stakes claim to these.
And for the baby divas (Lady Gaga's gaggle), a precious pink.
What a rich pop of color for New Year's! Take it from these ladies…
And with a red dress…? Perfection, Sienna.
(I'm still coveting this one from my law firm's fashion show event at Nieman Marcus…)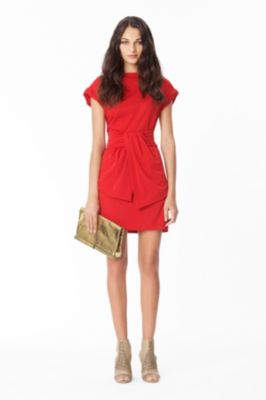 But I'm a sucker for a good lip gloss (see the 18-odd varieties in my hall closet…), so I will happily settle for some Viva Glam to ring in 2011. Plus, I'd do anything for Cyndi. She really DOES just want to have fun.