Did you know that the Finnish Marimekko is coming to America with a new flagship store at 200 Fifth Avenue in New York this Fall? My little brother Charlie wrote and performed the music for this video about the opening.
I just did a little snooping on Marimekko and while they don't seem to have any gifts that give at this particular moment, they have a track record of social responsibility and giving back to the community that gives so much to them.
They produced a beautiful bag in a red, white and blue Unniko pattern and sent 100% of profits to American Red Cross efforts in Japan.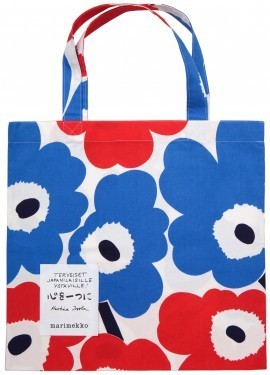 They've also collaborated with Avon to send 100% of proceeds from a tote to the Avon Breast Cancer Crusade.
Aside from all that, they seem like such a cheerful and worldly brand with quite a sophisticated following.

Photo via The world according to Roosa.
Cheers to Charlie for teaming up with such a cool company for its States debut!